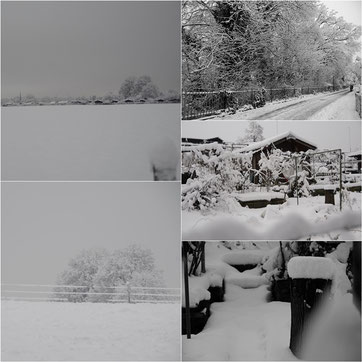 Every time I thought of my diary, regardless of whether it was here or the one made of paper, my head went blank, thoughts that could have been processed into an essay or in a literary story disappeared in the void. The mourning for Thamiam and also for my life, for having suffered sexualised and other violence, were too great. It wasn't until today, when I answered C.'s question in a mail how I am doing, that the words came back. And there were many. At first I thought "I have nothing to say", which reminded me of the title of a Therese Giese biography, one of the first books that I bought as a young woman, when I was a wife, mother, housewife and indulged the senses of our cat as well as the bobtail's, the baby hedgehogs' and turtles'.
So I now take advantage of parts of what I have already written today in the e-mail and hope my female friend C. likes it too.
For a few weeks there has been a significant improvement thanks to methotrexate. It took a few months to take effect and is not as stable as one wishes, but a lot better than last year.
My radius is still severely restricted because after two years, where they could only be challenged to a minimal extent, my muscles have broken down considerably or the inflammations still report quite quickly. My walking distance is about 2000 m. After all, I have been able to start doing a little yoga and stretching again since a few days. I can actually move the right arm around in an imaginary circle, with the left the circle is just a bumpy ellipse LOL The moment of truth will come when I have to do in the garden again. The stamina for physical work will probably still be missing.
:-) For the leisure garden I get a new patio as a gift. Judihui. I once got in touch when bajour.ch started a Christmas campaign. I didn't expect anyone to sign up for something quite extensive. And then a couple decided to give me the new wooden floor. It will be ready in spring. It's just fantastic and it brings tears to my eyes still now. With joy. With relief.
The stone floor slabs heat up the place so much that I can't even lie there in the afternoon in the summer. In addition, they also heat the pond too much.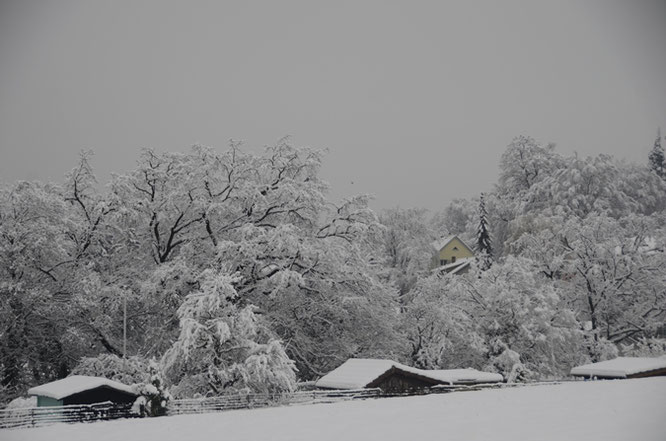 What is less helpful is that all the snow and the poor infrastructure in this leisure garden caused a wall to collapse. I now have to take care of it, after the previous tenants apparently haven't done anything to maintain it for 15 years. At the moment the stones are in the garden bed below the one vine and I hope that the rest will last until I'll have the time and money to take care of it.
I had already assumed that a real dry stone wall would then have to be built that offers space for larger and smaller living beings. But I was hoping that the wall could stay there for another two years.
Incidentally, there are not even lizards in these gardens, although the angle of the sun is predestined. There are no hedgehogs either. For decades, "order" was kept come hell or water, although the municipal parks and gardens department has been demanding organic cultivation since 1995. And then the long-time residents complain about gardens that look exactly like natural gardens should look like. Although they knew that I was seriously ill, last year there were some of those fanatically neat people who would have loved to have my garden taken away from me. After they notabene were watching my fore-tenants letting rot the garden about 15 years, they have zero patience and empathy with me? Oh, well. Since I feel a little better, I'm quicker and smarter with answers again :-))). Or it doesn't hit me as badly anymore. And it's easier for me to decide if I want to counter the stupid and often malicious talk, at all - they think I don't know anything about it LOL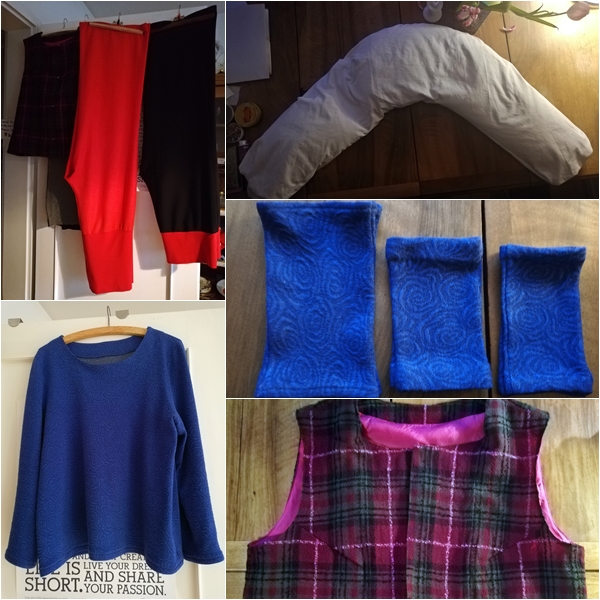 Otherwise: I started sewing again last summer in a sewing course, I really like it (because of the covid virus there is a break now). I had gained 15 kg water because of the cortisone and had had enough of always having to wear the same pants. And really, I sew something at home from time to time. Trousers and a sweater, for example, I sewed the first trouser/sweater in the sewing class and the second at home. And small items like a new pillowcase with a zipper for my old snake pillow or cloth napkins with butterfly patterns, to reduce paper consumption. I also feel a little more awake again and creativity comes back at least partially.
(Even if I still made mistakes and sewed the patterns on the first napkin onetime at the front and the other time back or had to loosen the zipper on the pillow again after the first sewing. Or when I had to sew up the pillowcase, I had a blackout on the last two centimetres and cut the fabric. Or had just enough attention span to cut out the next four napkins.)
And I've a again good mind to cook again or try out new dishes.
And I started a kind of sleep cure with the consent of my old female doctor and have been taking Surmontil in very low doses as a sleep aid for three weeks. That is also having an effect. I again remember dreams when I wake up. This is of course an absolute last resort, because there was no other way. I take this drug for a maximum of six weeks. Then my sleep-wake rhythm will have settled. That was also difficult the last two years because of the pain. If sleep disturbances are added to the pain, a vicious cycle develops that I absolutely had to interrupt.
*****
As always constructive feedback in the guestbook are welcome.
*****